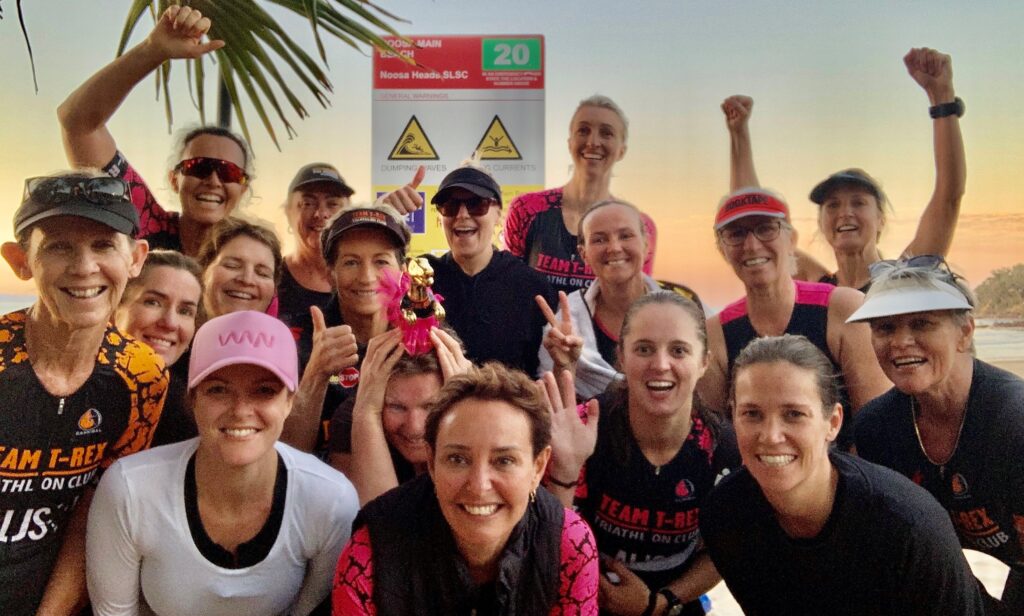 Co-director and founder of Team T-Rex, Teresa AKA "Coach T" is a highly successful triathlete and triathlon coach. During her twenty years in the sport, Teresa has competed in six World Age Group Championships, taken multiple podiums at State Championships, and won the QLD Tri Series. She holds a silver status in the Ironman World Rankings, as well as a ten year 'legend' status at Noosa Triathlon.
During her eleven years as a Tri coach, she has been nominated twice for the Triathlon Australia Age-Group Coach of the Year and holds the titles of the QLD Coach of the Year 2018 and Junior Coach of the Year 2017.
Her crew are also regular entrants in the Kingy Tri, and are probably best recognised for their mascot wearing a giant T-Rex costume chasing runners along the course.
We chatted with Teresa to hear more about her impressive triathlon career, the inspiration behind her awesome team name and why she thinks we need more women in triathlon.
How did you get into triathlon?
I was a distance runner through my youth and began a career in the fitness industry as a young adult.  The team I worked with all did triathlon and encouraged me to give it a go way back in the year 2000. I was hooked after the first race!
What motivated you to become a triathlon coach?
I was a personal trainer and specialised in strength and conditioning and run coaching. I also taught deep water running classes and spin cycle classes. Once I started learning about triathlon as an athlete, many clients asked if I would coach them. I quickly realised I needed to get accredited first, so I completed my development coaching course with Triathlon Queensland.
Where did the name Team T-Rex come from?
The name Team T- Rex came from my maiden name, Teresa Rice. I crossed the line at Robina Triathlon and the announcer said, "the winner is T- Rex" instead of T. Rice. Everyone laughed and I turned up at work Monday morning at the gym to my new nickname of T- Rex. I was soon presented with a bike sticker that said T- Rex and a name of the same proudly printed on my tri suit! As I began coaching, the group name Team T- Rex was suggested, so I registered this name as a business and went from 3 members to 50 members in 12 weeks.
You have a ladies-only program called She-Rex to help encourage more women into the sport. In your opinion, why aren't more women doing triathlon? And are there any extra obstacles that women face?
The She-Rex all women's squad within our club comes from an idea I had to offer women an opportunity to give triathlon a go. Where women can come without feeling intimidated or concerned about being an absolute beginner; to create a safe and non-judgemental zone to ask questions, be curious, try something new, gain confidence and to give swimming, riding and running a go no matter what their level.
The She-Rex Squad is also about meeting new friends, supporting each other in triathlon, helping each other through life's ups and downs and enjoying the challenge of triathlon.
Women often put themselves as last on the list, prioritising others and focusing on family needs first. Meanwhile, their own health, fitness, and time required to try a sport such as triathlon is considered too hard to fit in, or there are feelings of guilt if women are spending time on themselves.
Our She-Rex squad is designed to be flexible; the foundation session is 90 minutes once per week teaching all the tips and tricks of the sport, plus coffee with the team after to relax and enjoy the company of other squad members.
How would you encourage women who are unsure about triathlon to give it a go?
The growth in women participating in sport is huge! There are more opportunities now than ever before and we aim for 50% of the participation rate in triathlon to be women in the next few years. Grab a friend, join a local tri club, ask every question you can think of and have a go!
You have a number of achievements from throughout your career as a triathlete and a coach, what would you say is your greatest achievement/ proudest moment?
Proudest moment as a coach was to be acknowledged by Triathlon Queensland and to win the Junior Coach of the year and the Age Group Coach of the Year. These awards were achieved due to the efforts of our incredible T- Rex club members and their outstanding results.
Personally, my proudest moment was completing my first Ironman last year on the world's most famous course in Roth, Germany.
Given the current COVID climate, do you have any thoughts on the importance of exercise on mental health and wellbeing?
Physical training and routine are the best and most effective ways to maintain positive mental health. Keeping in touch using technology during times of lockdown, getting a program from your coach to follow and to keep accountability and goal setting are key to optimal physical and mental health. Including mindfulness and breathing exercises are complimentary to physical training and promote balance and relaxation too.
We love having your team at Kingscliff. What is Team T-Rex's favourite thing about Kingy Tri?
We have participated at the Kingy Tri since race 1 and our favourite things are the tide assisted swim in pristine water and the team relays. The All In and the Relay Team categories bring our club together and create a fun and slightly competitive culture that keeps us smiling at Team T-Rex!